Tuesday, March 22, 2005
tonight's meeting
OK, so just so everyone is in the loop (I don't think "comments" get sent out to everyone's email), just want to re-post that our next meeting is tonight at Catherine's house. 7:30. I just sort of caught up with the "other BAG" discussion, but I think it would be fun to do any of those ideas. We can talk about it tonight maybe? And for Brenda: I'm going up to school today, so maybe I'll try to find the Raban and the Collage City book. See you baggie poos!

Saturday, March 19, 2005
i hate to do this
sorry kids, there is no way i can host our bagging on tuesday. too many inflexible deadlines. and sleep is becoming a commodity. feel free to carry on without me. although i will miss all your cute faces. and will dream of your nimble hands crafting away.

Monday, March 14, 2005
baggin' it!
next meeting: march 22nd. my house. unless there are any major objections. bring snacks. booze. giddiness. and good cheer. new members welcome. but they may be sujected to an excrutiating initiation first.

if anyone needs the address, which i won't post here. e-mail me.

Sunday, March 13, 2005
multiple bags
Yvonne and i ran into this guy Gabe on Friday night at the Inbreds show and he gave us flyers for a show his band was playing (today), and you'll never guess what the name of the band was: ***Bag*** so we told him about our BAG, and we sparked an idea of having a show where the Bag band plays on an (UP)BAG soft city stage. I realize now that I don't know any way of getting into contact with Gabe. I've always just randomly run into him at shows. but maybe I can dig up the info if I put my feelers out. What do y'all think of that idea? Maybe it needs a little more to it. something that would let people know a bit about the BAG experience. Maybe an interactive BAG environment to explore, or some tie in with a public space type of event? or not to volunteer other people's houses for stuff, but maybe a tie in with the April 1 party the Lansdowne house was thinking of having? just an idea. Actually, the Anarchist Free U is probably having their end of term party that night, and it sounds like it will be cooler than usual, like with bands playing and stuff. not sure if that matters or not. there might not be much overlap between BAG and the AFU geeks.

Friday, March 11, 2005
Little Cities
read about their Little Cities party



Begin forwarded message:

From: Red76ArtsGroup@aol.com
Date: March 10, 2005 4:29:16 PM EST
To: undisclosed-recipients: ;
Subject: First We take Vancouver, Then We Take Berlin

Hello Dear Mailing List Friends,

So much to say, oh so much to say...

1. Red76 goes and visits their friends Instant Coffee in Vancouver, British Columbia, Canada and does 
    a full weekend of Little Cities parties w/ friends along to amaze and enlighten

2. An Explanation of our project Little Cities

3. Blowback, the overview of Part's 1 - 2 of the NY Public Archive Project going into its final weeks at
    Reed College, Portland, Oregon, USA
.......................

1.
Red76 presents:
Little Cities
w/Instant Coffee
March 11 - 13
@ 69 Pender St.
Vancouver, B.C.
Canada

This upcoming Friday thru Sunday we will be in Vancouver, B.C., Canada participating in Instant Coffee's Bassbed installation. We will be doing our continuing project concerning cardboard houses and ideas of home called Little Cities (read more below on the ideas behind that project).

Joining us will be a bunch of friends:

Fri. Mar. 11
9pm till late...

Join us for a Little Cities Build Yr. Own House Party w/
- Matthew Stadler giving a talk about the desire for a city made to order
- Matthew Yake spinning 60's and 70's Psych Rock records found on Red76's Eastern European Tour 
  of last winter, plus records in the same vein found on various other tours
- A slideshow of all 2300+ photos taken by Sam Gould on the Red76 Eastern Europe Tour

Sat. Mar. 12
9pm till late...

Join us for a Little Cities Build Yr. Own House Party w/
- "Hello Vancouver" a video walking tour made by Khris Soden and Sam Gould concerning Portland,
   Oregon history and the reasons why Khris couldn't make it through the border to Canada with us
- Beautiful music by the very special Portland Vampires

Sun. Mar. 13
11am till a little while later...
We will be getting together for coffee and deciding on a spot to homestead our new community of cardboard houses. Then it's off on a walking tour of Vancouver to plot out our new home.

That's that. If you happen to be in the western part of Canada this weekend come and join us. Anyone coming from as far away as Moose Jaw gets a free hug.

2.
A little bit about the Little Cities project...

Red76 Presents:
Little Cities


Some rooms? A roof? When we come home at night, tired and toughed out, what is it that we are coming home to? What are the qualities, the subjective, the personal, that we use to define shelter? For that matter, when do we get home anyhow? Talking with Paige the other night she mentioned how the longer she has been living at her space the more the area surrounding her becomes her home. Far before she steps through the doorway to the building she lives in even. As she glides up the street on her bike, blocks away from her building, home starts to arrive earlier and earlier as the months and years living in the area pass her by and accumulate at her feet. She becomes her own doorstep, arriving home each day quicker and quicker.

Between the period 1995 - 2005 I have lived in nine different cities, by my count, and moved into new spaces within that timeframe fourteen times. I could count other moves - living with a girlfriend and her family in Vermont for a few months in the mid-90's, etc, etc... - but I'll leave it at that. Oddly, in all that time, I didn't really stop thinking of New York, where I grew up, as my home till only about two years ago. Always in the back of my brain, genetically stuck inside me like a virus. New York was ingrained within me. And then, suddenly, it was gone. After that point I was a ghost in New York all the subsequent times I went to visit my family. Free of the past, walking through the streets unnoticed and unwatched, my home somewhere else, my memories of New York packed away in filing cabinets, accessible, but not out in the open for everyone to look at. At that moment I wasn't quite sure where my home was exactly, but I knew that I was free to decide on how I wanted to define it's upcoming stages. Not everyone is so lucky. Defined by so many odd conditions and circumstances our homes are so often decided for us rather than with us. Decided not on the merits of comfort and care, but on class or family or religion or race or simply habits or symptoms so out of our control.

Conversely, or actually, maybe hand in hand with these varied conditions to be more precise, the homes we choose for ourselves, the ones that do bring us comfort and care are deemed, at times, so out of sorts for what a home should be. Uprooted by others we are told that our idea of home is no home at all, and that they know better than we do and are looking out for us. And you know, sometimes they're right. And sometimes not. Who knows. It's tricky, right? One of those topics that spins in circles. Everyone with an opinion, almost everyone right in one way or another. Everyone wrong in all the same ways. It's just that there are no right answers, just right timeframes.

With more questions than answers we set out on our project Little Cities. Designed as a series of parties Little Cities is a project set in place to try to investigate these complicated questions through simplistic, childlike actions. While at the same time, a process designed to create new homes, new communities, and new ways and situations for people to think about what a home is.

Little Cities Build Yr. Own House parties are pretty simple. Guests are greeted by a room filled with cardboard and various supplies, markers, paint, glue, etc, etc...And, for the rest of the night we make houses out of cardboard, listen to music, have some drinks. That's that. The following morning we ask that party guests return to the site of the previous nights party. We'll have some coffee, sit around and talk. Try to figure out a place that we all agree on that is a special place, a place that we, collectively, would like to homestead. Taking our homes in hand we venture out onto the streets taking the trek towards our new homeland. Placing our homes in this newly homesteaded area we are all the new stewards of this land. There to look over it, see that everything is okay, watch out for it.

As time goes on, and more and more people get together for these parties, an invisible community of Little Cities will start to grow across the country, linked by the people and ideas that came to the parties, sat down, cut up some card board, listened to some Steely Dan and maybe drank a beer with someone they hadn't met before. Invisible communities of Little Cities comprised of people who spotted an outcropping of discarded cardboard, junk and trash strewn across the grass or pavement, who realized upon a closer look that it wasn't trash at all.

3.
Red76 Presents:
Blowback
February 1 – March 27, 2005
Hauser Memorial Library & Kaul Auditorium Foyer
Reed College 
3203 se Woodstock blvd
Portland, Oregon
curated by Stephanie Snyder
http://web.reed.edu/gallery/case_works/upcoming.html
http://www.red76.com/blowback.html

In the summer of 2004 Red76 was asked to take part in an exhibition called Playpen at the Drawing Center in New York City. For this show we created the NY Public Archive (www.red76.com/nypublicarchive.html). The project, housed in the Drawing Center's Drawing Room Annex (an exhibition space located across the street from the main space, accessed through a roll up garage door) was outfitted with a number of voting booths that folded out from metal suitcases. The insides of the booths were retrofitted into drawing tables. Colored pencils were provided with each voting booth. Within the space, along with the booths, there was hand written text on the walls explaining the project, and a list of instructions. A sign welcoming people to the NY Public Archive, made out of construction paper, was tacked up at the far end of the space. Along with all of this there was a column of drawing paper (restocked each day by the Drawing Center staff) and a large plywood box to drop submissions into.

The thrust of the NY Public Archive was to invite the public into the space to write and draw whatever it was that they might have been thinking, feeling, seeing on the streets and in their homes in NY that summer. All in all we received roughly two thousand submissions. Pleas for peace, confessions of infidelity, lists of things people had seen that day, abstractions, love notes, diary entries, and tons more.

From the beginning the point was to glean an archive of the thoughts and hopes of random New Yorker's and redistribute the material back to the citizens of New York to facilitate the sharing of stories. The power of openness. This December, through a variety of different means, we did just that. Culled directly from submissions to the NY Public Archive we disseminated the submissions to the archive back onto the streets of NY. Through the use of stickers (14 different kinds), a matchbook (in an edition of 2500), a book, postcards (3000 of them in all mailed out randomly to various New Yorker's), t-shirts, buttons, door hangers, and more, we spread these thoughts far and wide to the five boroughs. All in all over 11,000 separate multiples were produced from archive submissions and sent back out to the New York public at large.

For February - March of 2005 Red76 has been invited to share this process of redistribution, as well as selected archive submissions, at Reed College in Portland, Oregon through the colleges Case Works program. On display for this exhibit will be a selection of archive submissions, photo and video documentation of the archive redistribution process, as well as selections of the over 11,000 multiples created to send these thoughts and stories back to the people and the city that created them in the first place.

(We would like to thank Stephanie Snyder, the curator of Reed College's Cooley Gallery, for her work on this exhibit and being super nice in general)
.......................

Over and Out,
R76

www.red76.com
ask@red76.com

Thursday, March 10, 2005
I made it!
finally i'm on this bloody blog.

there's a dollar store near bloor/lansdowne that sells felt squares at 4 for $1. many wonderful colours are available! i don't want to post the name of the place here as this should be top-secret from other crafters in the city, but i will divulge this info at the next meeting.

my apologies to anyone who left the other night while i was up in my room on the telephone... as co-host i shoulda been there to say good-bye. next time i promise.

J

more action shots
Yvonne and Brenda hard at work
Yvonne and the CBC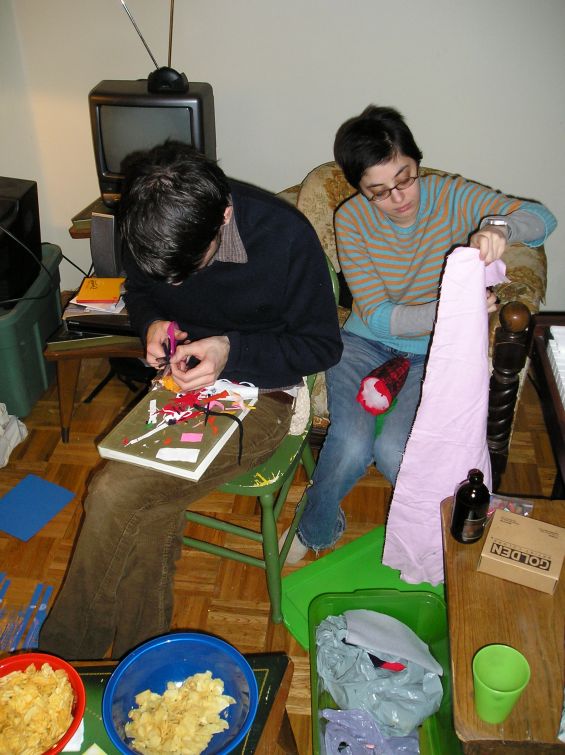 Jason and Rose getting crafty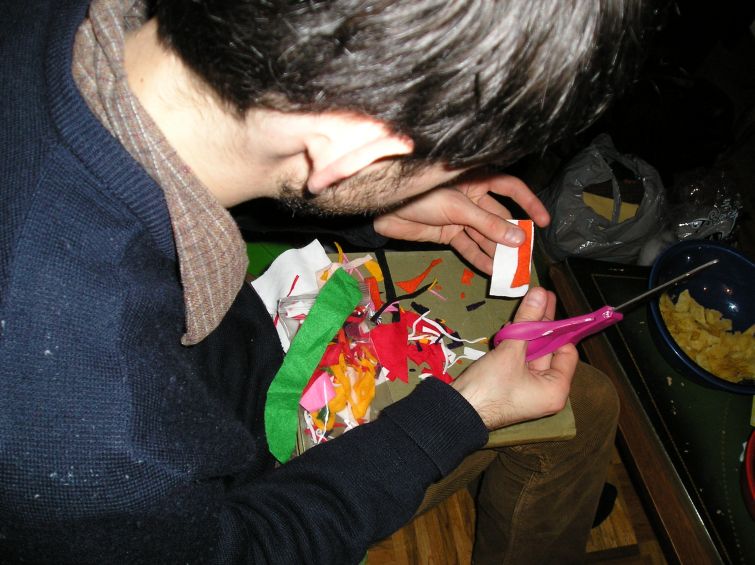 Jason making felt billboards
DJ Darren looking wiped
Also present: Ryan and Catherine
Wednesday, March 09, 2005
success and storage
a great meeting last night baggers! our strange and special city is really starting to take shape. i am sure tonight i will have lovely dreams of our soft city. cat can you add ryan to our bloggy fun? this is his e-mail: ryan@project3media.com

so now that our city is growing i think it may be easier to leave the bulk of our supplies and buildings in one spot and then meet there. i can volunteer my home. i have a huge storage closet, which is sought after by many of my co-op friends, which is only currently housing jasons plastic etc, and some of my old roommates stuff.

don't know if people mind not hosting and want the fun of it. but i thought this would be easier then bringing supplies each time.

Tuesday, March 08, 2005
Supplies III
There is a fabricland around the corner from work. I will go there around 4pm.
If anyone would like to place an order I will pick things up for you....

Did you buy a bag of stuffing Rose? Or were you just getting foam?

I also had a thought about larger foam--I once got an off cut of pillow foam from an upholsterer. It would be a low cost alternative and the extra pieces tend to be quite large.

There is also a Lewiscraft if anyone has any other requests.

Monday, March 07, 2005
also about stuff
can someone bring some stuffing. a big bag of it perhaps? without this we are very hindred.

also, if someone can track down some interesting building felt colours? also needed i think.

and as always drugs and booze encouraged and crucial to the bagging grove-on.

newbies
hey i wanna invite a few interested crafters that j.v.h and i spoke to on friday and leapt at the opportunity to come make soft buildings. one is a boy, and one a girl. and the boy impressed us througly be offering to bring his own sewing machine.

also, i have been experimenting with priniting on various materials including celophane (no idea how to spell that word). i am going to bring the lino stuff again. but i vote if its a thing were gonna use that we take up a bit of a collection cause the ink and lino stuff is expensive. we have barely used any thus far so no prob but if we expand production. which it seems we are. i was also thinking of picking up another carve tool.

also, also, can we please not post long things about events. just give the link. bad enough i get 500 e-mails a day of that variety. lets keep the blog the sacred place it deserves to be. and long e-mails should be reserved for debate and other diatribes.

Interesting offerings
I am back in town,
and there are some things going on this week and next that upbaggers might be into...

There is some film below, some city and some film on the city (& some cities on film.)

1. The New Directions in Cinema series presents:
Steve Sanduedolce's DEAD TIME
World Premiere
Wednesday March 9th, 2005
at 7pm and 9pm
Innis Town Hall, 2 Sussex Avenue
Tickets: $5.00 at the door
Information: 416-588-6444

(I'm not sure if I'm going to the 7 or the 9 yet)

2. Bowling nite thursday, Danforth Bowl...Just a warmup for the fundraiser.

3. Olia Mischenko has a show opening at paul petro on Friday.
4. If anyone else hasn't seen Darren's play yet, would anyone like to join me on Monday night the 14th?

5. Coming next week @ Goethe Institute:

THE CITY ON FILM

Wed, Mar 16, 7 pm
City of Ruttmann / City of Vertov, discussion by Professor Seth Feldman, York University
7.30 pm: Berlin, Symphony of a Great City (Berlin: Die Symphonie der Großstadt), 1927, 70 min, large screen projection, by Walter Ruttmann; followed by The Man with the Movie Camera, 1929, 65 min, large screen projection, by Dziga Vertov
Walter Ruttmann's "Berlin: Symphony of a Great City" is the signature documentary of Weimar cinema. Ruttmann records a day in the life of the city from the perspective of an Expressionist flaneur, looking for the images that create a Berlin of the mind.
Dziga Vertov's "The Man with the Movie Camera" is a day in the life of a city of cinema. Composed of shots taken from several cities, the film is being made by its crew as we are watching it. "The Man With the Movie Camera" also serves as Vertovs manifesto, proclaiming what Soviet Constructivist Cinema could be.
Thu, Mar 17, 7 pm
Absolute Film, Berlin, 1925, discussion by Filmmaker/Professor Bruce Elder, Ryerson University
These films focus on a famous event, mounted by the radical Novembergruppe, that took place in Berlin, May 3 and 10, 1925. The event is known as the Filmmatinee "Der absolute Film"; this is an historic occasion because it was the first event drawing together a number of "absolute" (abstract) films. It also marked the end of the Absolute Film as a cohesive, oppositional film practice. This program considers the reasons why, after this signal event, many German filmmakers abandoned the quest for the purity of abstraction and adopted the aesthetics associated with "Das neue Sehen".
7.30: Screening of short films (90 min)
Rhythm 21 (Rhythmus 21), 1923/24, 2,5 min, by Hans Richter
Diagonal- Symphony (Symphonie Diagonale), 1924, 7 min, by Viking Eggeling
Lightplay: Black, White, Gray (Zeigt ein Lichtspiel: Schwarz, Weiß, Gra), 1930, 6 min, by Laszlo Moholy-Nagy
Un Ballet Méchanique (Ballet Mécanique), 1924, 14 min, by Fernand Léger, with Dudley Murphy
Ghosts Before Breakfast (Vormittagsspuk), 1927, 6,5 min, by Hans Richter
Berlin: Symphony of a Big City (Berlin: die Symphonie der Großstadt), 1927, (Excerpt, first 10 min), by Walter Ruttmann
Marseille, old port (Impressionen vom Marseiller Hafen), 1929, 6 min, by Laslo Moholy-Nagy
Berlin Still Life (Zeigt Berliner Stilleben), 1926, 8 min, by Laslo Moholy-Nagy
Constructions of the Soul (Seelische Konstruktionen), 1927, 10 min, by Oskar Fischinger
Study No. 6 (Studie Nr. 6), 1930, 2 min, by Oskar Fischinger
Study No. 7, (Studie Nr. 7) 1931, 2,5 min, by Oskar Fischinger
Study No. 8 (Studie Nr. 8), 1931, 5 min, by Oskar Fischinger
Study No. 11 (Studie Nr. 11), 1932, 4 min, by Oskar Fischinger
Squares (Quadrate)
, 1934, 5 min, by Oskar Fischinge
r

Goethe-Institut Toronto, Kinowelt Hall
163 King St. West
St. Andrew Subway
Tel.: 416-593-5257
Sunday, March 06, 2005
OK it's official (?)
The next BAG meeting will take place Tuesday March 8th at Jason and Yvonne's place. Let's say 7:30-ish?

Tuesday, March 01, 2005
when is our next meeting? and another field trip
if we go for the tuesday eve thing again i guess we could do it march 8th and i guess according to the rotation we are back at yvonne and jason's unless brenda or darren want to host. this does involve providing some snacks. although we do all bring stuff as well.

and the trip:
PUBLICity: A Gallery Exhibit of Toronto's Public Spaces

Spacing magazine and the Toronto Free Gallery are excited to present
PUBLICity, a five-week photo exhibit examining Toronto's urban
landscape and public spaces as captured by the city's top
photobloggers. By gathering together these highly-regarded multimedia
artists, PUBLICity will showcase the variety of life that arises from
our unique city.

Please join us Thursday March 17 (7-10pm) as we launch this exciting
show featuring the work of Sam Javanrouh, Matt O'Sullivan, Rannie
Turingan, Davin Risk, Gayla Trail, Jonathan Day-Reiner, and Adam
Krawesky. Their images have graced the pages of Spacing, or your
computer screen, but now you have the chance to examine their
beautiful photographs up close.

http://spacing.ca/gallery

March 16 to April 23, 2005.
Toronto Free Gallery (660 Queen St. East)
Gallery Hours Wed-Fri: 11 to 6, Sat: 12 to 6

anyone want to come see this tomorrow night?
Cinematheque Ontario's THE INDEPENDENTS presents . . .

PROGRAMME 7: AGNÈS VARDA'S MUR MURS

A visual voyage which captures the beauty and originality of Los Angeles's
outdoor mural paintings, MUR MURS (France 1981, 81 minutes) includes
interviews with many artists, including Judy Baca, who observes: "I started
painting because I realized that I had never seen a Chicana in a museum." A
terrific study of public art, the film explores such questions as 'who
paints them, who pays for them, who looks at them, [and] how this city,
which is the film capital of the world, reveals itself by its whispering
walls' (Varda). An 'exhilarating poetic documentary on the murals. . . .
Liberated by Varda's magical camera each of these artists becomes an
articulate charmer' (Mary Corliss, The Soho News).

Please note: while many of the interviews are in English, the film's
narration is in French and is not subtitled.

Wednesday, March 2 at 6:30 p.m.